Interested in hassle-free room bookings?
Room Display is an amazing meeting room digital signage system that can be used to manage rooms via the email calendar or the convenient touch-enabled displays outside each meeting room.
Two ways to buy and use Room Display
Room Display is offered in two options; buy our complete Room Sync display unit ready to use, or buy as license-only so you can configure the SW/HW bundle yourself.
Request a Quote, Demo or Buy directly on our Buy & Contact page, or see the resellers page.
Ready to try it out? You can download a full trial/demo of Room Display on Google Play or our website.
Testimonials
"A stunning application! What a great application. We have set this up across our meeting rooms and have extremely positive feedback from all our staff who use them. the integration to exchange is superb and the application is very stable. We have had a a custom ceiling mount made for the Samsung Galaxy Tab 2 and the charging cable fits inside the mounting pole for a professional install. We have had exceptional response from the developer and the ongoing updates have added to the look and functionality of room display overall. Highly recommended!"
   Jonathan Hall, Waikato District Council
"Great App! Installing the paid version on 26 conference rooms. Has been a hit with employees."
   Kade Ross, Bandwith.com
Room Display
Room Display can be configured to run on most 7″/10″ Android tablets. With so many users taking advantage of services like Microsoft Exchange and Google Apps, we know how important it is to integrate room reservations. Room Display syncs with these services, giving users the flexibility to reserve rooms from any location and any device.
Meeting Overview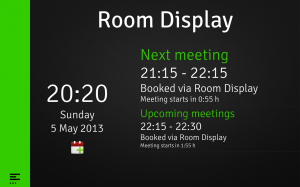 The highly customizable main view displays the status of a room through a simple status bar. Green indicates available, yellow shows a pending reservation, and red means the room is busy. Users can easily see the status of the room and, if desired, the name of the meeting organizer.
Quickbook
Quick Book lets users book resources while at the display outside the room. A few quick taps is all you need to reserve a room without the need for a computer. Quick Book can be disabled for a pure digital signage mode.